At Lamb of God we remember our missionaries around the world, remembering them by name in four week periords. Sunday we begin remembering Anthony and Jamie DiLiberto. Below is some information about them and their work in Peru.





Anthony and Jamie DiLiberto,
Serving the Lord in Peru
Bio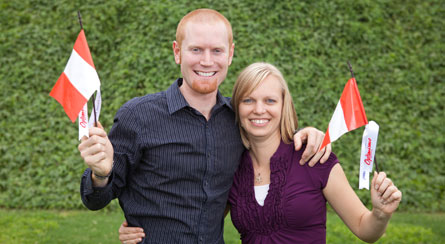 Anthony and Jamie (Endorf) DiLiberto serve as LCMS missionaries in Peru. Anthony is the
Peru mission
team's mercy outreach specialist. He facilitates the Peruvian Lutheran Mission's mercy work at the Mighty Fortress Mercy Center, where members of the emerging Peruvian Lutheran church body reach out with the love of Christ to children and teens forced to live and work on the streets of Lima. Both Anthony and Jamie help with the church-planting ministry of the LCMS team in Peru, helping teach adult and children's Bible classes and participating in regular outreach and worship events as needed. Anthony began serving in Peru in the fall of 2008, coordinating short-term mission teams and service projects, and Jamie began serving in Peru in September of 2010 as the short-term team coordinator. They were married on July 14, 2012.

Anthony is from southern California, where his home congregation is Mt. Calvary Lutheran Church in Diamond Bar, Calif. He earned his bachelor's degree in Christian Education Leadership with a minor in Spanish as well as his certification as a Director of Christian Education at Concordia University, Irvine, Calif.
Jamie grew up on a farm near Tobias, Neb. She graduated from Concordia University Nebraska with a bachelor's degree in secondary education, a Lutheran teacher's degree and concentrations in English and Spanish. Jamie taught Spanish at Metro East Lutheran High School in Edwardsville, Ill., prior to moving to the mission field. She is a member of Good Shepherd Lutheran Church in Collinsville, Ill.
Prayers
Anthony and Jamie write, "Please pray that as we reach out with the team to Peruvians with the Good News of the Gospel, we would 'resolve to know nothing but Christ and Him crucified' for the free forgiveness of our sins (1 Cor. 2:2). Please pray for the mercy work and church planting in Peru. May every single human care activity we're involved with point people to Christ, whose death on the cross was the ultimate manifestation of God's mercy for all of humankind."
This link will take you to the LCMS page for the DiLibertos, which has links to their blogs, newsletters, etc.
Blessings in Christ,
Pastor